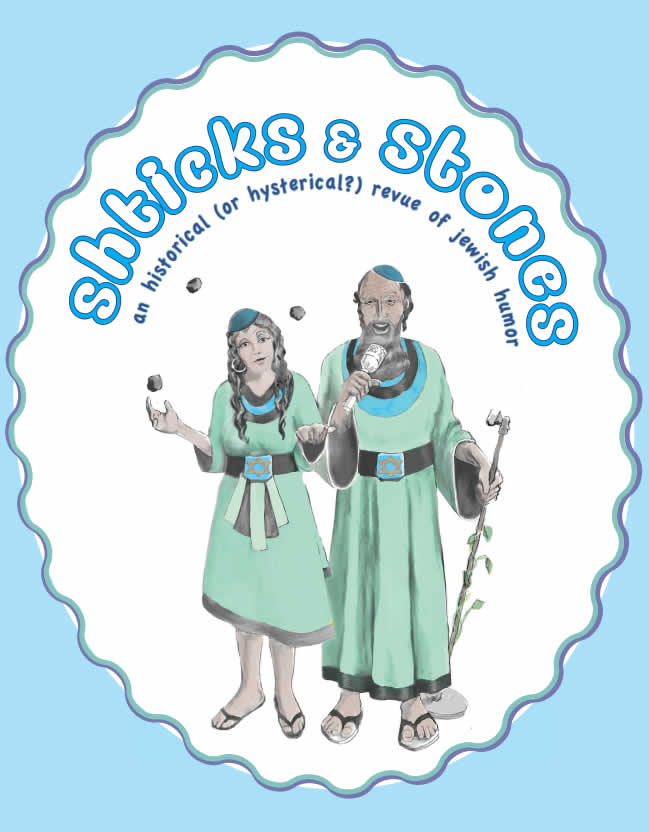 An Historical (or Hysterical?)
Revue of Jewish Humor
Including a set of Adam Klein's original Americana music
November 13, 2022, 5:00 – 7:30 pm [doors open 4:30 pm]
At Hendershot's, 237 Prince Avenue, Athens, GA
Come on out to Hendershot's on 11/13/2022, Sunday, from 5:00–7:30 pm to enjoy
Shticks & Stones, a zany, fast-paced romp through three centuries of comedic Jewish
history.
CCI Member and UGA Theater Professor David Z. Saltz directs five local Jewish
performers—ages 16 to …—who bring to life characters from the CCI Funny Bone
Committee's original script. Designed to inform and amuse, Shticks and Stones was
compiled after extensive research. It is chock full of shtickery, silly skits and tongue-in-
cheek spins on traditional Jewish lore.
The Cast members are father-daughter duo Rich & Dalty Friedman; Adam Klein;  and Lizzie Z. Saltz. The members of the CCI Funny Bone Committee are rusti Klein, chair; Doug Haines, Paul Kurtz, Suzanne Sperling and others.
Shticks and Stones is one of several fundraisers being held in celebration of CCI's 150th
year anniversary. This evening's proceeds will support CCI's security
technology.
The producers request that audience members be Covid sensitive..
Ticket Prices:
We encourage you to purchase advance tickets as venue seating is limited to 110 seats
$18—Advance Tickets
$25—Same Day Tickets – First Come, First Serve
$50 to $250— Options for Reserved Seats
Prefer to purchase your tickets by check?
CCI congregants may also purchase tickets by submitting a check to the main office by
Nov. 9, either in person or to arrive by snail mail.
Please write 'Shticks,' number of tickets and reserved seating options (if any) in the
memo line.
____________________________
Seat Reservations Options
Front Row Table for 4
$250: Front row table for 4, including a complimentary drink per person, cheese tray and
crudités
$150: Front row table for 4
Hi-Top Table for 2
$75: Hi-top table for 2, including a complimentary drink per person
$50: Hi-top table for 2
Illustration by RutanArts with graphics by Sugar Und Salt Designs