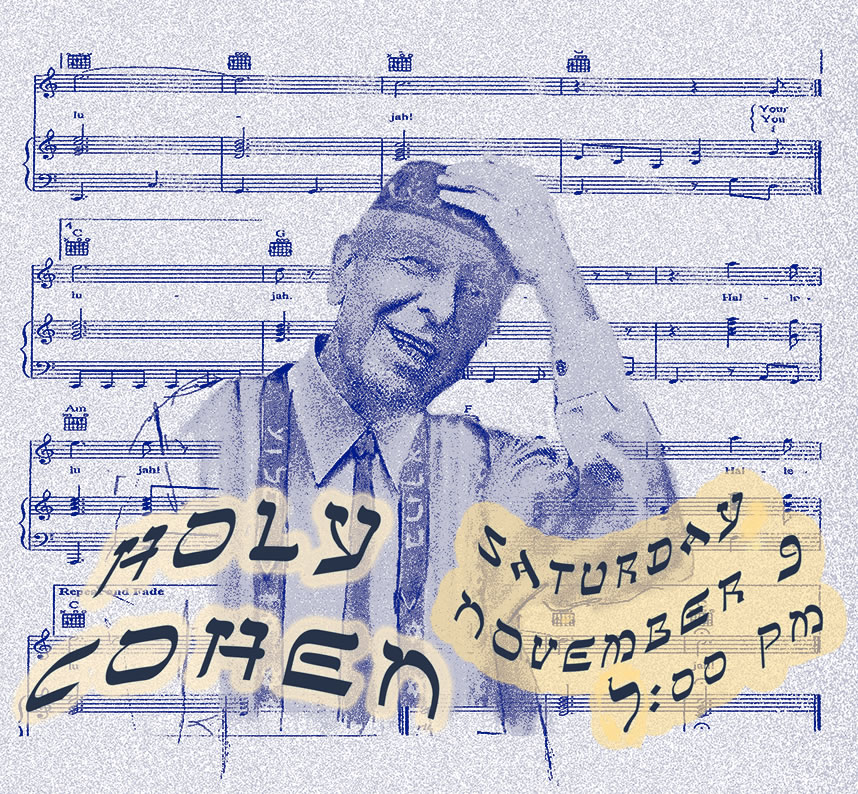 Join us November 9 at 7:00 pm for
Holy Cohen
a concert of 13 Leonard Cohen songs
exploring his spirituality and connection to Judaism
A CCI Havdallah program
conceived of and produced by Lizzie Z. Saltz.
Leonard Cohen (1934-2016) is renown as one of the few singer-songwriters who emerged from the early 60's that continued to flourish and grow during a fifty-year career. Many are unaware of how greatly his Jewish origins impacted his his poetry and music. He was born into the bosom of Montreal's orthodox Jewish community—his maternal grandfather was Talmudic writer, Rabbi Solomon Klonitsky-Kline and his paternal grandfather was the founding president of the Canadian Jewish Congress. And although he went on to explore other faiths and was even ordained a Buddhist monk, he always considered himself Jewish and is said to have observed Shabbat while on tour (Jewish Standard May 22, 2015). Reading through the lyrics to his output of over 90 songs released on over twenty albums, you will find that Jewish tropes, prayers and phrases appear throughout. This life-long connection to his Jewish roots culminated in the inclusion of Cantor Gideon Zelermyer from his childhood synagogue, Congregation Shaar Hashomayim, who can be heard at the end of You Want it Darker, whose chorus, Hineni, Hineni,' exemplifies the artist's spiritual readiness to depart. This Holy Cohen concert features thirteen of Cohen's songs which highlight the complexity of balancing the spiritual and the profane. We hope that you will come away with a greater appreciation for the outstanding and profoundly Jewish artist.
You can learn more at his official site: https://www.LeonardCohen.com
Songs:




Presented Chronologically

1969 | the Story of Isaac
lead vocals: david z. saltz

1969 | You Know Who I Am
lead vocals: lizzie z. saltz

1974 | Who By Fire
lead vocals: nina borremans

1979 | The Window
lead vocals: tammy gerson

1984 | Dance Me to the End of Love
lead vocals: logan herren

1984 | Hallelujah
collective song

1984 | If It Be Your Will
choral arrangement: sam polk
concept: rich friedman

1992 | The Future
lead vocals: reg mcknight

1992 | Anthem
lead vocals: david adler

2001 | By the Rivers Dark
lead vocals: david & lizzie z. saltz

2012 | Amen
lead vocals: m. cahnmann-taylor

2016 | On the Level
lead vocals: dan horowitz

2016 | You Want It Darker
lead vocals: m. cahnmann-taylor
cantorial solo: lizzie z. saltz

Musicians:

David R. Adler
guitar, vocals

Nina Borremans
guitar, percussion, vocals

Melisa Cahnmann-Taylor
vocals

Lynn Elmore
vocals

Rich Friedman
vocals

Tammy Gerson
percussion, vocals

Logan Herren
vocals

Dan Horowitz
upright bass, guitar, vocals

Rabbi Linder
saxophone

Roy Martin
violin, vocals

Reginald McKnight
vocals

Roberta Merkle
vocals

David Z. Saltz
guitar, vocals

Lizzie Z. Saltz
concept, director, vocals

Noah Z. Saltz
drums
Thank you to Jack Rutan for the Holy Cohen image.