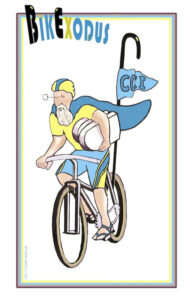 CCI Families and Friends – As we continue to celebrate our Congregation's 150th year of strengthening Jewish life in and around Athens, GA, please come to Wire park to enjoy BikExodus 2023 by watching or participating and celebrating with us! There will be food, music and fun for all. Please bring you and your family to come to Wire Park on May 7 from 11–1 PM at 1725 Electric Avenue, Watkinsville, GA 3067.
---
There Will Be Food!
Lalo's Taco Cantina will be serving us with a wonderful fajita bar from 11-1. The meal will include chips and salsa, and a choice of one side. It will cost approximately $11.
---
There Will Be Music!
Klezmer Local 42 will perform from 11-1!
---
There Will Be Wonderful Raffle Prizes.
The fundraising for BikExodus includes the selling of raffle tickets. The drawing of prizes will happen during the celebration from 11–1 PM. Please note, raffle winners do not need to be present to win. This year, we have a marvelous grand prize worth $1000!
– a $750 Airbnb gift card, good for anywhere in North America
– a $250 American Express gift card
In addition to this amazing grand prize package, prizes include many gift cards to local shops and restaurants, including a $250 gift card to Mama Ning's, a $150 gift card to the National, and a $150 gift card to Jittery Joe's!
Raffle tickets are $25 each, but for every $100 of tickets purchased, you receive a fifth for free!
---
How can I Support this Event?
You can help support BikExodus in three different ways:
– 2) You can become a "Friend of BikExodus" by donating $150 (or more) You can do so at this link (and please write "BikExodus Donation" in the "What are you paying for box"): 
https://ccisrael.org/cci_pay/
– 4) You can (and should) come with your family to Wire Park from 11-1 on May 7!
---
Event Notes
It's once again time to make your Exodus – to the 4th Annual BikExodus Metric Century Bike Ride, presented by Congregation Children of Israel and Trumps Catering in Athens. 
Three beautiful, fully supported routes are offered: 64, 45, and 28 miles. 
All routes depart from the spectacular new Wire Park and are fully sagged and supported with well-stocked rest stops.
All participating riders will be treated to a tasty post-ride barbecue meal provided by Trumps Catering.
All riders will receive cool BikExodus socks! 
Net proceeds support the general fund of Congregation Children of Israel.
Pre-registration and packet pickup open at 8 AM at Wire Park.
Ample parking, restrooms, and pre-ride snacks are available at Wire Park.