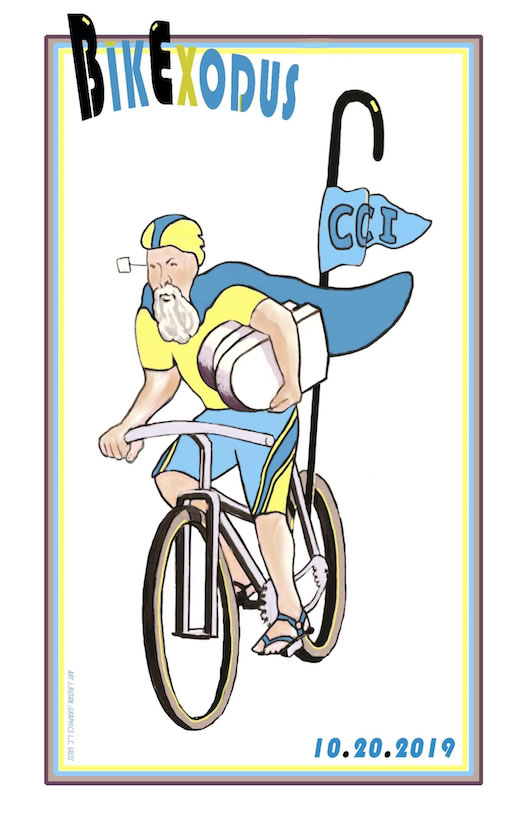 A Riding Fundraiser
I'm a CCI member and I'm not a cyclist. What can I do?
Great question! Please click here
I'm interested in riding. Tell me more!
Join the BikExodus and escape from town for a beautiful metric century ride in the countryside. Presented by Trumps Catering in Athens, and Congregation Children of Israel, the BikExodus is a fully sagged and supported ride that offers options of 63-, 42-, and 23-mile routes.
BikExodus takes place during the Jewish holiday of Sukkot. During this harvest holiday, Jews stand in a temporary structure (a Sukkah) and celebrate the beauty of creation. It's a perfect holiday to gather as a community, make new friends, and go for a ride!
The ride begins at 10 AM at the Jittery Joe's Roaster in Athens, 425 Barber Street. Trumps Catering will provide a Sukkot holiday themed meal at the end for all riders. Pre-registration and packet pickup open up at 9 AM at the Roaster.
Click here for directions. Parking is available at the Roaster.
The route takes us from Athens to the lovely town of Winterville, and then out into the Oglethorpe County countryside.
All pre-registrants are guaranteed a ride t-shirt.
All net proceeds from the ride support Congregation Children of Athens.
Not a Cyclist? You Can Sponsor Jonny
Jonny Perry will be riding a stationary bike for the full duration of the 63-mile ride. There is a fantastic way that you can support Jonny and our congregation. For every $20 that you contribute, you will also receive a raffle ticket. The main prize will be the stationary bike that Jonny will be riding. The bike will likely be a Diamondback 910 SL. There will be other prizes as well.  This is a wonderful for way for all of our CCI members  to contribute to this wonderful fundraiser. Please join us in wishing Jonny a hearty Mazal Tov, and come cheer him on at the Roaster!
Online raffle ticket purchasing has closed. Thank you.