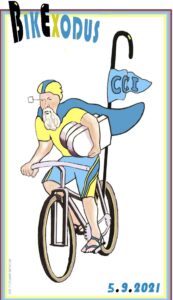 I'm a CCI member and I'm not a cyclist. What can I do to support this event?
Right now, we are asking congregants to consider being congregational sponsors of the BikExodus, which entails a donation of $100 or more. You will get a T-shirt, and be listed in the Temple Times as a congregational sponsor (if desired). Thank you for considering this meaningful donation!

I'm interested in riding. Tell me more!
Join the BikExodus and escape from town for a beautiful metric century ride in the countryside. Presented by Trumps Catering in Athens, and Congregation Children of Israel, the BikExodus is a fully sagged and supported ride that offers options of 63-, 42-, and 23-mile routes.
The ride begins at 10 AM at the Jittery Joe's Roaster in Athens, 425 Barber Street. Trumps Catering will provide a meal at the end for all riders. Pre-registration and packet pickup open up at 9 AM at the Roaster.
Click here for directions. Parking is available at the Roaster.
The route takes us from Athens to the lovely town of Winterville, and then out into the Oglethorpe County countryside.

All pre-registrants are guaranteed a ride t-shirt.
All net proceeds from the ride support Congregation Children of Athens.
Buy Raffle Tickets for the BikExodus!
One way that you can support our BikExodus is by purchasing raffle tickets! Prizes will be drawn throughout the day of our event (Sunday, May 9), and you do not have to be present to win.
Our grand prize is a one week vacation in a condominium located at a beautiful resort Hilton Head, provided by Jonny Perry. The vacation is set from December 25 – January 1. Please click here to see the webpage of this gorgeous resort:
https://www.spinnakerresorts.com/resorts/hilton-head-island/waterside/
There are many prizes other including gift cards to local businesses (Jittery Joes, Siri Thai, Barberitos, Condor Chocolates, and more …). We will also give away two Computrainers donated by Fitness at Five. You can set up these trainers with your own bike bike and have a fully integrative experience using the provided software. These two trainers are a matched set, and are in very good condition, with a combined value of approximately $400.
Raffle tickets are $20 each, and if you purchase five, you will get a sixth one for free! (*If you do purchase 5, please still list 5 in the box below. You will receive a sixth ticket from our office administrator.)
Thank you for supporting the BikExodus!